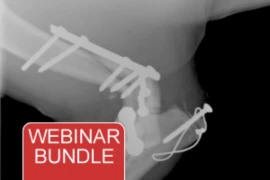 Webinar Bundle - Fracture Repair
Speaker:
Kathryn Duncan, Alasdair Renwick, Brian Beale, Jack Davey, Eva Schnabl-Feichter
from 1
US$ 154,-
(incl. tax)
Description
In this bundle we have combined 5 great webinars in order to boost your confidence in fracture repair.
We will start with the various fracture classification schemes and how the classification can influence the treatment course for the patient, before moving on to the avoidance of the most common types of fracture complications.
The third webinar will cover simple techniques designed for the general practitioner to repair the most common fractures seen in dogs and cats, followed on by advice on how to deal with soft tissue, implant related, and bone healing complications.
The bundle will be topped off by a lecture on typical joint luxations and fractures of our feline patients, where you'll get an idea on how to treat common joint injuries in cats and what the prognosis is likely to be.

Kathryn Duncan
Dr Kathryn Duncan BSc, DVM, MANZCVS (Small Animal Surgery)
Kathryn graduated from the University of Melbourne with her BSc and DVM, and subsequently commenced working at Southpaws Specialty Surgery in Melbourne as a rotating intern. She developed a strong passion for surgery during her internship, and ultimately undertook a surgical residency at Southpaws via the European College of Veterinary Surgeons (ECVS). She has obtained her memberships in small animal surgery through the ANZCVS. Her residency will be completed in February 2020, following which she will continue on working at Southpaws as a surgical registrar in the lead up to her specialist exams in early 2021.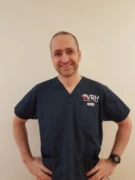 Alasdair Renwick
Alasdair Renwick BVMS DSAS (Orth)
Alasdair is an internationally recognised orthopaedic specialist and is currently the only specific orthopaedic specialist in registered Victoria. He worked for 11 years in general practice followed by spending the last 11 years in specialist orthopaedic practice. As well as his clinical duties he regularly lectures nationally and internationally and is an honorary lecturer for the University of Liverpool. Prior to moving with his family and joining the Veterinary Referral Hospital (VRH) -Hallam in January 2018, he spent the previous 7 years in one of the busiest orthopaedic referral clinics in the UK. This clinic had a large case load of high performance working dogs and competition agility dogs, as well as plenty of pet dogs, with many of these dogs sustaining fractures. He has a wealth of experience in returning these dogs to function and has continued to enjoy fracture fixation at VRH.
Brian Beale
Dr. Brian Beale, DVM, DACVS
Dr. Brian Beale received his D.V.M. from The University of Florida in 1985. He completed an internship at Friendship Hospital for Animals in Washington, D.C. and a surgical residency at The University of Florida. He became Board Certified by the American College of Veterinary Surgeons in 1991. Dr. Beale was an assistant professor of surgery at the University of Florida College of Veterinary Medicine prior to joining Gulf Coast Veterinary Specialists in 1992. Dr. Beale is an adjunct assistant professor at the Texas A&M College of Veterinary Medicine, and is a co-author of the industry-defining textbook, Small Animal Arthroscopy. Dr. Beale was featured in Nat Geo WILD's Animal ER in Fall 2016. Listen to Dr. Beale as he hosts Your Pet's Health on KTRH (AM 740) on Sunday nights at 8 p.m.!
Jack Davey
Dr Jack Davey
Jack graduated from Charles Sturt University, Wagga Wagga, with first class Honours for his research on bone healing and also received the 'Bruce Christie Surgical Prize' for a high level of aptitude and clinical skills in small animal surgery during the veterinary course.

He then started his career as a veterinarian working in Launceston, Tasmania as a mixed animal veterinarian where his passion for surgery strengthened. In 2018, Jack was awarded the NVC's 'Best Recent Graduate' award for his work in veterinary clinics across Tasmania, Victoria and South Australia with both large and small animals.

Now with the aim to further his surgical skills, Jack is undertaking a residency in Small Animal Surgery at ARH Canberra.

Eva Schnabl-Feichter
Dr Eva Schnabl-Feichter Dipl. ECVS
Eva Schnabl-Feichter studied Veterinary medicine at the Veterinary University in Vienna and qualified in 2002. After her studies she worked in private practice in England for one year. During her stay in England she finished her doctoral thesis about Tibial plateau angle measurements in Cats under the supervision of Prof. Dr. Lorinson. In 2003 Eva started an internship and completed a residency in small animal surgery under the supervision of Prof. Ulrike Matis and Prof. Roberto Köstlin at the Ludwig-Maximilians-University in Munich/Germany. In 2010 she became a Diplomate ECVS and worked between 2010 and 2013 with Dr. Günter Schwarz at the Tierklinik Hollabrunn as senior surgeon. In 2013 she returned to the Veterinary University in Vienna/Austria to be team leader in small animal orthopaedics. Eva is part of the faculty of the AO and member of VOS and ESVOT. Her research interest focuses on traumatology, cranial cruciate disease and feline gait analysis.
You might also be interested in