Acid/Base, Blood Gas and Why You Should Care (for nurses)
from 1
€ 42,-
(incl. tax)
Description
Acid-Base status and blood gas interpretation can be potentially tricky to learn. While there is no escape to memorizing normal values, this webinar will help you to make sense of the acid-base balance in your patients, and the clinical effects those changes can bring. We will also discuss the compensatory mechanisms the body employs in an attempt to keep the pH in the normal range. Also, learn a new technique using tic-tac-toe to quickly interpret blood gas results helping you to identify the primary disorder and if compensation is occurring. A brief discussion of respiratory blood gas interpretation will follow.
Language: English

In case you have missed this webinar, you have the opportunity to watch a recorded version here.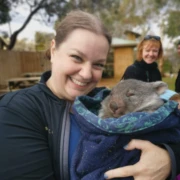 Megan Brashear
Megan Brashear, BS, CVT, VTS (ECC)
Megan graduated in 2000 with a BS in in Veterinary Technology. She has worked in emergency and critical care since 2000 earning her veterinary technician credentials in 2000 and in 2004 became a Veterinary Technician Specialist in Emergency and Critical Care. Megan currently works as the Small Animal Nursing Manager at the Purdue University Veterinary Teaching Hospital in West Lafayette, Indiana, where she enjoys working with technician supervisors as well as teaching and training technicians and students on the hospital floor. She loves the opportunity to travel and lecture sharing her knowledge with veterinary technicians and nurses around the world.
You might also be interested in