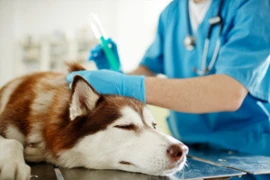 Anaesthesia Drugs - what to expect when they're on board
from 1
US$ 42,-
(incl. tax)
Description
More than one drug is administered as part of a multimodal and balanced approach to a patient's anaesthesia experience. These all have varying physiological effects including bradycardia, hypotension, muscle rigidity and even excitement. By understanding where and how these anaesthesia drugs work, we can predict and troubleshoot any negative effects they have on the body.
In this webinar, we will discuss the anaesthesia triad and the stages of anaesthesia our patients move through as well as common anaesthesia drugs used in premedication, those that provide analgesia such as opioids and NMDA antagonists, benzodiazepines and induction drugs, non-steroidal antiinflammatories and local anaesthetics.
Recording from 15.02.2023
Courtney Scales
Courtney Scales, Registered Veterinary Nurse
Courtney is originally from New Zealand where she trained and qualified. She has been working as a veterinary nurse since 2007 and after working in several small animal clinics in New Zealand, an anaesthesia passion took her to a large referral hospital in Australia. In 2016 she made the move to the United Kingdom, where she most recently had been working as a Registered Veterinary Nurse in the Anaesthesia Department at the Royal Veterinary College. Courtney is now a Clinical Educator for Burtons Medical Equipment.
Courtney has completed her Nurses Certificate in Anaesthesia and is starting the PgCert in Veterinary Anaesthesia and Analgesia through the University of Edinburgh this year.
Throughout her studies and career, she started Veterinary Anursethesia on various social media platforms to share anaesthesia tips with the veterinary community. She has written several articles for journals and enjoys speaking to Student Veterinary Nurses and Registered Veterinary Nurses on "all things anaesthesia".
You might also be interested in