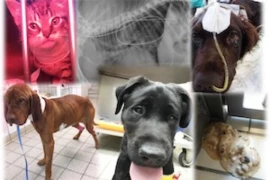 Assisted Feeding - Wenn Patienten nicht selbstaendig Nahrung aufnehmen
Speaker:
Hendrik Lehmann, Catharina Lücking
from 1
US$ 42,-
(incl. tax)
Description
Viele stationäre Hunde- und Katzenpatienten nehmen weniger als ihren Ruhe-Energiebedarf (RER) auf. Damit sie nicht in eine negative Energiebilanz und katabolen Zustand geraten, müssen wir gegensteuern.
Da stationäre Notfallspatienten also oft zu wenig fressen, stellt sich die Frage: Wann fängt die Unterstützung an und wie mit der Fütterung beginnen?
Sprache: Deutsch
Aufnahme vom 23.04.2020
1 Stunde nach § 10(2) der ATF-Statuten als Pflichtfortbildung für ATF-Mitglieder.
Die Anerkennung laut Bildungsordnung der Österreichischen Tierärztekammer ist möglich.
Anerkannt nach den Richtlinien der Gesellschaft der Schweizer Tierärztinnen und Tierärzte und mit 1/3 BP ausgezeichnet.

Hendrik Lehmann
Hendrik Lehmann, Dipl. ACVECC
Seit 2019: Oberarzt Intensivstation Klinik für Kleintiere der JLUGießen
Juli &November 2018: Externship Emergency and Critical Care Service Vetsuisse Bern, CH
November 2017: Externship Emergency and Critical Care Service Cornell, USA
Oktober 2017: Teilnahme am ersten Cardiopulmonary Bootcamp Cornell University, NY, USA
2016-2018: Resident American College of Veterinary Emergency and Critical Care unter der Leitung von Frau Dr. med vet E. Haßdenteufel DACVECC, DECVECC
2014 - 2015: Rotating Internship an der Kleintierklinik der Vetmeduni Vienna, AT
2007 - 2014: Diplomstudium Vetmeduni Wien
Catharina Lücking
Catharina Lücking hat nach ihrem Abitur Veterinärmedizin an der Universität Giessen studiert. Im Anschluss an das Staatsexamen arbeitete sie 15 Monate als Tierärztin im Rahmen eines Internships in der Kleintierklinik der Universität Giessen. Seit 2014 arbeitet sie bei Royal Canin zunächst im Außendienst und seit 2018 als Scientific Trainer.
You might also be interested in