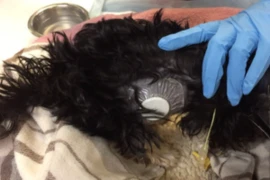 Complicated Diabetics - DKA and HHS
Speaker:
Soren Boysen, Serge Chalhoub
from 1
US$ 42,-
(incl. tax)
Description
Beyond hypoglycemia and the challenge of managing diabetic cats' long term, there are two major life-threatening complications of diabetes mellitus: Diabetic ketoacidosis (DKA) and hyperglycemic hyperosmolar syndromes (HHS). This session, delivered by in internal medicine specialist (Dr. Serge Chalhoub) and an emergency and critical care specialist (Dr. Søren Boysen), who rarely agree on anything, will emphasize the key diagnostic and therapeutic considerations of DKA and HHS by using case examples from the clinical setting.
Recording from 24 August 2023
Soren Boysen
Professor Soren Boysen, DACVECC from the University of Calgary
Professor Soren Boysen obtained his DVM from the University of Saskatchewan (Canada), completed a small animal internship at the Atlantic Veterinary College (Canada), and a residency at Tufts University (United States), becoming a diplomate of the American College of Veterinary Emergency and Critical Care in 2003. He is the former Chief of Small Animal Emergency and Critical Care at the University of Montreal, and currently a Full Professor of veterinary emergency and critical care at the University of Calgary. Extensively published, and a recipient of numerous teaching and research excellence awards, he has become an internationally recognized speaker. Although he loves all things ECC, he is considered a pioneer of veterinary point of care ultrasound (VPOCUS), having developed the small animal Focused Assessment of Sonography for Trauma (FAST) exam with his colleagues at Tufts. With many great colleagues from around the world he continues to actively research and develop veterinary point of care ultrasound (VPOCUS) training techniques, education programs, and workshops for non-specialist practitioners. Along with point of care ultrasound, his research interests include hemorrhage, coagulation, and perfusion.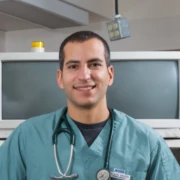 Serge Chalhoub
Serge Chalhoub, Internal Medicine. BSc, DVM, DACVIM
Dr. Chalhoub graduated from the DVM program at the Faculté de médecine vétérinaire (FMV) of the Université de Montréal in 2004. Serge followed this with a one-year rotating small animal clinical internship at the same institution. After working for two years as a general practitioner and emergency veterinarian in Montreal, he pursued a residency in small animal internal medicine at the Animal Medical Center (AMC) in New York City. Once his residency completed in 2009 he stayed on at the AMC as their first renal/hemodialysis fellow and then as a staff doctor. Dr. Chalhoub has been a faculty member at the University of Calgary's Faculty of Veterinary Medicine (UCVM) since 2012. He is the recipient of multiple teaching awards, including the 2015 University of Calgary Team Teacher of the Year Award with his colleague Dr. Søren Boysen. He has authored and co-authored numerous scientific articles and book chapters on veterinary point of care ultrasound, renal and urinary medicine, and lectures at numerous conferences on these topics.
You might also be interested in