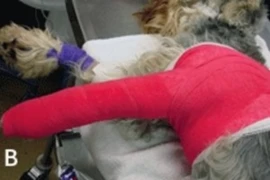 Complications with Fracture Repair
from 1
US$ 42,-
(incl. tax)
Description
This webinar will covering the following: Initial fracture management, diagnostic tools, fracture repairs, open fractures then soft tissue, implant related, and bone healing complications.
Recording from 26 July 2022
Jack Davey
Dr Jack Davey
Jack graduated from Charles Sturt University, Wagga Wagga, with first class Honours for his research on bone healing and also received the 'Bruce Christie Surgical Prize' for a high level of aptitude and clinical skills in small animal surgery during the veterinary course.

He then started his career as a veterinarian working in Launceston, Tasmania as a mixed animal veterinarian where his passion for surgery strengthened. In 2018, Jack was awarded the NVC's 'Best Recent Graduate' award for his work in veterinary clinics across Tasmania, Victoria and South Australia with both large and small animals.

Now with the aim to further his surgical skills, Jack is undertaking a residency in Small Animal Surgery at ARH Canberra.
You might also be interested in