Does Seeing an Exotic Pet Fill you With Fear
from 1
US$ 42,-
(incl. tax)
Description
As a veterinarian, we are sometimes presented with cases that are a little outside of our comfort zone and for many, exotic animals are WAY outside of that! Fear not, this webinar is for you! We aim to refresh your memory regarding the common disease presentations of popular pocket pets, so you can do your best to help these little patients in an emergency.
This program has been approved for 1 hour of continuing education credit in jurisdictions that recognize RACE approval.
Recording from 9 March 2023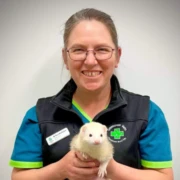 Rena MacFarlane
Rena MacFarlane, BSc BVMS (Hons) DVM MANCVS
Rena was born in Las Vegas, Nevada and attended the University of Nevada, Las Vegas and Utah State University prior to completing her veterinary studies at Murdoch University in 2005. Following graduation, Rena completed a Preceptorship in Emergency Medicine and Critical Care at Murdoch Pet Emergency Centre, prior to working in country mixed animal practice. Rena has since acquired her memberships in Unusual Pets Medicine and Surgery and is one of the few handful of vets in WA to have achieved this qualification.
Rena has a keen interest in small animal medicine and surgery, and in particular exotic animals, and completed Membership examinations in Medicine and Surgery of Unusual Pets through the Australia and New Zealand College of Veterinary Scientists in 2011 and Avian Health (Caged and Aviary Birds) in 2018, and has participated as both Assistant and Head Subject Examiner for the College since attaining qualification.
Rena has worked in private practice since 2006 as a small animal clinician, focused mainly on Unusual and Exotic animals, as well as having an interest in small farm health and general surgery.
You might also be interested in