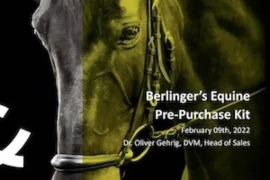 Berlinger's Equine Pre-Purchase Kit
Description
A presentation from Dr. Oliver Gehrig, DVM, Head of Sales
Oliver Gehrig
Dr. Oliver Gehrig
Dr. med. vet. Oliver Gehrig, DVM, Head of Sales
You might also be interested in
Equine Metabolic Syndrome and pituitary pars intermedia dysfunction
Equine Metabolic Syndrome (EMS) and pituitary pars intermedia dysfunction (PPID) and are the most common hormonal disorders in adult horses. Although both conditions have been described worldwide, those diseases have a specific significance in Australia; for instance, in Queensland, it has been shown that more than 20% of aged horses are suffering from PPID and that more than a third of them are also suffering from EMS. Both conditions have a huge impact on equine health as they both result in laminitis. Laminitis is a painful and incurable condition, and even though it has been a major burden on the equine industry for many years, there is still no adequate treatment. Therefore, prevention of the first painful episode of laminitis is critical when managing horses at risk of developing hormonal dysregulation. This presentation will review the current understanding of both EMS and PPID and will also describe the diagnostic tests that can be used to improve the early detection of horses at risk. Finally, this presentation will discuss the different therapeutic options available.

Speaker:
François-René Bertin
Canine and feline lymphoma - diagnosis and treatment
Canine and feline lymphoma is a relatively common disease but there are some areas where potential complications arise. This webinar will concentrate on the diagnostic tests that can be utilised for this disease and the common treatments, with an emphasis on how the diagnostic tests can influence the treatment and prognosis. In dogs, diagnosis is usually relatively straightforward, but it can be more of a challenge in cats due to the differences in clinical presentation. The standard initial treatment options are well described, but how they need to be modified dependent on concurrent illnesses, diagnostic test findings and owner constraints can be more complicated. My approach to these issues will be described including how they might impact the patient outcome, as well as alternatives. The monitoring of the patients and an overview of the management of complications of the disease and treatment is to be covered. The webinar will conclude with rescue options. Lymphoma can be a rewarding disease to treat, but can be very challenging at times.

Speaker:
Dietrich Volkmann