Feline Hyperthyroidism for Nurses
from 1
US$ 42,-
(incl. tax)
Description
Feline Hyperthyroidism is a commonly seen disease in older cats in general practice. This webinar will discuss what Hyperthyroidism is and what clinical signs we might expect to see. There are different treatment options ranging from daily medications, surgery, or radioactive iodine treatment. We will look at the pros and cons of each of these options. From a nursing perspective we will talk about some of the considerations you may want to think about when handling and caring for these cats in hospital. We will also look at the relationship between feline hyperthyroidism and kidney and heart disease. Lastly, let's talk about how we as nurses can help educate our feline pet owners about hyperthyroidism.
This program has been approved for 1 hour of continuing education credit in jurisdictions that recognize RACE approval. (Pending)
The Australian Veterinary Nurse and Technician (AVNAT) Regulatory Council has allocated (1) AVNAT CPD point to this continuing education activity.
Recording from 17 October 2023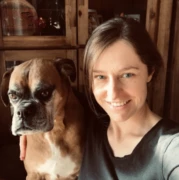 Skye Carr
Skye Carr Diploma Nurse Educator. DipVN (ECC), TAA.
Skye is an Australian qualified Veterinary Nurse who has been working as a veterinary nurse for over 16 years. She spent 6 years working in general practice before moving on to a specialist and emergency centre in Adelaide. She split her time between the emergency and medicine departments for many years with a particular interest in critical care. In 2011, Skye completed her Diploma in Emergency and Critical care. Shortly after, Skye took on the Nursing Manager role for the specialty centre for 2 years before deciding to move into a full time senior emergency nursing role. Skye completed her TAE in 2015 to share her knowledge and skills with other veterinary nurses and completed some casual assessing for nurses. Skye is currently still working in Adelaide in a specialist and emergency centre in a part time capacity as a senior nurse for both the emergency and medicine departments.
You might also be interested in