Indications and contraindications for emesis in the ER
from 1
US$ 42,-
(incl. tax)
Description
GI decontamination is an important consideration in acute toxin ingestion. This webinar will discuss the decision making process about whether to induce emesis, what method to use, alternatives to emesis, and risks. Clinical case material and recent research will be highlighted.
Recording from 17 August 2022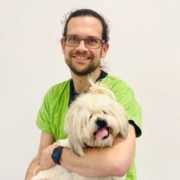 Corrin Boyd
Dr. Corrin Boyd, BSc BVMS(Hons) GradDipEd MVetClinStud MANZCVS, DACVECC
Dr Boyd is a criticalist employed as Senior Lecturer in Emergency and Critical Care at The Animal Hospital at Murdoch University. He is also a PhD candidate at Murdoch University, researching the adverse effects of fluid therapy products, with a focus on synthetic colloids. He graduated from Murdoch University in 2009. He remained at Murdoch working as a staff veterinarian in the Emergency and Critical Care service, before completing an internship (2013) and residency (2014-2017) in Emergency and Critical Care. He achieved ACVECC diplomate status in 2017. He also was awarded a Graduate Diploma of Education and Master of Veterinary Clinical Studies during this training. His main research interests include shock and fluid resuscitation, especially synthetic colloids, and their adverse effects on coagulation and kidney function. Other interests include congenital coagulopathies, kidney injury biomarkers, extracorporeal therapies, anaphylaxis, enteropathogens, patient anxiety and sleep patterns in the ICU, use of technology in ECC and ethics in ECC.
You might also be interested in