NOMV Spezial: Sind wir TierärztInnen wirklich an allem schuld?
from 1
US$ 42,-
(incl. tax)
Description
Die moderne Pest unter MedizinerInnen weltweit nennt sich Imposter Phänomen und moralischer Stress. Dieses Webinar zeigt auf, wie eine Rückgewinnung der eigenen Berufsidentität gelingt.
Das Imposter-Phänomen und die moralische Belastung beeinträchtigen die Fähigkeit, sich seiner Rolle in der Veterinärmedizin würdig zu fühlen. Das Imposter-Phänomen flüstert einem zu, dass man nicht klug genug, talentiert genug oder gut genug ist, und dass es eines Tages jemand merken wird. Situationen in der realen Welt, die einen daran hindern, den Tieren zu helfen, denen man eigentlich dienen sollte, führen zu moralischem Stress und manchmal auch zu einem Gefühl des Versagens. Wir werden diese Themen systematisch erforschen und ich werde Ihnen zeigen, dass keines von beiden Ihren Wert als TierärztIn widerspiegelt.
Wir freuen uns sehr die Referentin Taylor Miller von der amerikanischen Organisation #NOMV für dieses Webinar begrüßen zu dürfen.
Dieses Webinar wird in englischer Sprache abgehalten und enthält zur Ergänzung neben den original Webinarunterlagen auch noch eine Übersetzung des Inhaltes auf Deutsch, damit ein problemloses Folgen des Inhaltes auch für nicht 100% Englisch-sattelfeste KollegInnen ohne Probleme gelingt.
Ein Teil der Einnahmen dieses Webinars werden direkt an die #NOMV Organisation gespendet.
Two modern plagues among medical professionals worldwide are called Imposter Phenomenon and Moral Stress. This webinar shows how to reclaim one's professional identity.
The imposter phenomenon and moral distress degrade one's ability to feel worthy of their role in veterinary medicine. The Imposter Phenomenon whispers that you aren't smart enough, talented enough, or good enough, and someday someone will notice. Real world situations that prevent you from helping the animals you are meant to serve leads to moral distress and sometimes a sense of failure. We will explore these topics systematically and I will show you that neither is a true reflection of your worth as a veterinary professional.
This webinar will be held in English and we are very pleased to welcome Taylor Miller from #NOMV as our speaker.
Part of the proceeds of this webinar will be donated directly to the #NOMV organization.
Aufnahme vom 6. Juli 2023
Sprache: Englisch
1 Stunde nach § 10(2) der ATF-Statuten als Pflichtfortbildung für ATF-Mitglieder.
ATF Stunden werden von der ÖTK als Bildungsstunden anerkannt.
Die Anerkennung nach den Richtlinien der Gesellschaft der Schweizer Tierärztinnen und Tierärzte ist möglich.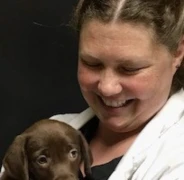 Taylor Miller
VETERINARIAN | NOMV EXPERT SPEAKER PROFESSIONAL COUNSELOR ASSOCIATE
PROFESSIONAL EXPERIENCE
VOLUNTEER • NOT ONE MORE VET (NOMV) • MAR 2021 – PRESENT
I currently serve on the Board of Directors, as Co-Chair of the Education Committee, and as Lead for the NOMV Student Chapter Initiative. I also act as an Expert Speaker for NOMV.
VOLUNTEER • RETURNING VETERANS PROJECT • NOV 2020 – PRESENT
I provide pro-bono individual counseling services for Oregon post- 9/11 veterans and their immediate family members.
COUNSELOR • THOUGHTFUL LIFE COUNSELING LLC • MAR 2020 - PRESENT
I have a private mental health counseling practice in which I see clients for individual telehealth-based therapy, I also provide mental health education for veterinary professionals and produce a podcast.
VETERINARIAN • TAYLOR MILLER DVM LLC • JAN 2020 - PRESENT
I currently work as an independent contractor providing small animal relief work in a select number of clinics.
VETERINARIAN • TIGARD ANIMAL HOSPITAL • DEC 2010 – APRIL 2019
I worked full time through 2014 then transitioned to part time in 2015 when my children were born. Tigard Animal Hospital is a full- service small animal hospital in which I was able to hone my surgical, dental, internal medicine, and client communication skills.
RELEVENT EDUCATION
MASTERS IN MENTAL HEALTH COUNSELING • 2015 • WALDEN UNIVERSITY
My degree program emphasized communication skills, counseling micro-skills, and an understanding of human development, behavior, and mental processes. It included a three-term counseling practicum.
DOCTOR OF VETERINARY MEDICINE • 2010 • OREGON STATE UNIVERSITY
The four-year program at Oregon State gives equal weight to large and small animal medicine.
You might also be interested in