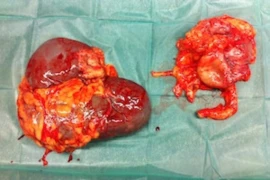 Nierendiagnostik und -therapie beim Pferd - ein Leitfaden
from 1
US$ 42,-
(incl. tax)
Description
Symptome, die mit Nierenerkrankungen beim Pferd einhergehen können, sind häufig unspezifisch, wie Mattigkeit oder Gewichtsverlust. Nicht selten sind Elektrolytverschiebungen oder Azotämie auch "Zufallsbefunde" bei Blutuntersuchungen von klinisch anscheinend gesunden Pferden. Gerade bei CKD (chronic kidney disease) kommt es erst in fortgeschrittenen Stadien zu offensichtlichen klinischen Anzeichen. In diesem Webinar werden unter anderem die weiterführenden labordiagnostischen Untersuchungen besprochen; außerdem die Klassifikation von Nierenerkrankungen (AKI, AKD, CKD), die Früherkennung von Nierenschädigung (VAKI-scoring System, neue Biomarker) oder auch das Staging System bei CKD. Darüber hinaus wird sowohl auf die Therapie und das Management als auch auf die Prognose akuter und chronischer Nierenerkrankungen eingegangen.
Sprache: Deutsch
Aufnahme vom 15. Juni 2023
1 Bildungsstunde laut Bildungsordnung der Österreichischen Tierärztekammer.
Anerkannt durch die ÖTK für 1 Stunde FTA Pferde.
Eine Anerkennung von 1 Stunde nach § 10(4) der ATF-Statuten als Pflichtfortbildung für ATF-Mitglieder ist möglich.
Die Anerkennung nach den Richtlinien der Gesellschaft der Schweizer Tierärztinnen und Tierärzte ist möglich.

Bianca Schwarz
Dr. Bianca Schwarz, DipECEIM
Nach dem Studium der Tiermedizin in München und Zürich, 2005 Promotion an der LMU München. Nach Internship und Residency am Royal Veterinary College, London und der Vetmeduni Vienna, seit 2011 Diplomate of the European College of Equine Internal Medicine. Von 2011 bis 2018 zunächst Oberärztin mit Leitung der Abteilung Innere Medizin, dann Klinikleitung / Teilhaberin der Pferdeklinik Altforweiler. Seit 2019 selbständig mit internistischer Beratungspraxis: Pferdeinternist – Dr. Bianca C. Schwarz, DipECEIM.
You might also be interested in