Optimize your Radiographs - Tips and Tricks for Nurses
from 1
US$ 42,-
(incl. tax)
Description
This webinar is tailored to Veterinary Nurses who have a keen interest in diagnostic imaging. The 45 minute presentation will focus on refreshing knowledge and improving understanding of basic radiographic anatomy, standardization of patient positioning, and resolution of common mistakes and artefacts that can occur in the digital imaging environment.

This program has been approved for 1 hour of continuing education credit in jurisdictions that recognize RACE approval. (Pending)
The Australian Veterinary Nurse and Technician (AVNAT) Regulatory Council has allocated (1) AVNAT CPD point to this continuing education activity.
Recording from 19 July 2023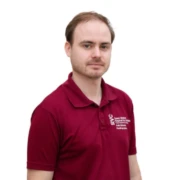 Ashley Moors
Ashley Moors, FdScVN GradDipVN PGCertVetEd FHEA RVN, Veterinary Radiographer, Royal Veterinary College
Ash graduated from the Royal Veterinary College, UK with an FdSc in Veterinary Nursing in 2010, and worked in First Opinion Practice in Dorset with access to Low Field MRI and Digital Radiography Systems.

He returned to the RVC in 2012, undertaking the Graduate Diploma in Clinical and Professional Veterinary Nursing whilst continuing to work in First Opinion Practice, choosing to undertake the surgical nursing and diagnostic imaging elective modules, which further developed his interest in radiography. During this period he built and coded a custom image storage system for the practice he worked at, allowing query and retrieval of digital imaging studies.

Ash joined the RVC's Queen Mother Hospital for Animals in 2016 as a Veterinary Radiographer, working exclusively in the Radiology department and performing a range of diagnostic imaging studies, including Fluoroscopy, CT and MRI. He is currently Administrator for the RVC's Vendor Neutral Archive storage system, overseeing a system of interconnected storage and viewing platforms that serve all clinical imaging equipment across both RVC campuses at Hawkshead and Camden.

He has been involved in teaching Veterinary Nurses at post graduate level, as well as providing CPD courses focused on Diagnostic Imaging, and has a particular interest in the provision of practical radiography skills to both Veterinary Nurses and Veterinary Surgeons, as well as the use of CT and MRI data for 3D models to assist with student education and owner understanding.
You might also be interested in