The Anatomy of the Elbow - relearn and apply it!
from 1
US$ 38.50
(incl. tax)
Description
This presentation concerns the applied anatomy of the canine elbow. After a thorough anatomical description of the joint itself, the adjacent muscles, nerves and blood vessels in this area will be reviewed. Important clinical references will be drawn and discussed: common lesions and diseases in this joint will be explained, as well as interpreted through diagnostic imaging. The main surgical approaches to this joint will be presented, with particular attention to the muscular landmarks to be used and to the nerves and blood vessels to be avoided during the process.
This webinar has been approved for 1 hour of continuing education credit in jurisdictions that recognize RACE approval.
Recording from 23 March 2022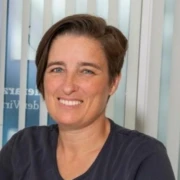 Maria Munz
Dr. Maria Munz, PhD
Dr. Maria Munz has been a lecturer on the subject Veterinary Anatomy since the year 2000. She worked at ICBAS, Porto, teaching mostly Clinical Anatomy but also Systematic Anatomies. Maria then moved to Sydney, finished her PhD and worked at USYD. Later, she also worked at UPENN, USA. Meanwhile, she lives in Germany. She works as a surgeon in a small animal clinic and presents webinars on Clinical Anatomy.
In fact, Maria does not merely focus on the anatomy itself during the webinars. She usually addresses the clinical importance of certain anatomical aspects. For example: how to avoid iatrogenic lesions during surgical or medical approaches, how to interpret diagnostic imaging, how to recognize specific diseases/lesions, to understand neurological tests, etc
You might also be interested in