The Clinical and Pathophysiological Aspects of Feline Lung-Digit Syndrome
from 1
US$ 42,-
(incl. tax)
Description
Feline Oncology can be a challenging discipline and clinicians need to understand the natural history of tumours to understand clinical presentation and management. The lifestyle of cats often presents further challenges as clinical features of disease are recognised at a very advanced stage. Lung - digit syndrome in cats is a syndrome commonly associated with lung cancer. In this webinar we will explore clinical presentation and pathophysiology of this condition and how it can be managed. More broadly we will examine the management of lung cancer in cats and other tumours that are associated with the respiratory system. This includes prognosis and management, including palliation.
This program has been approved for 1 hour of continuing education credit in jurisdictions that recognize RACE approval.
Recording from 22 June 2023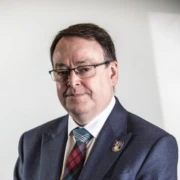 David Argyle
Professor David Argyle, Vice Principal and Head of College of Medicine and Veterinary Medicine, University of Edinburgh
David Argyle is a graduate of Veterinary Medicine and Surgery from the University of Glasgow. He gained his PhD in Immunology and Oncology from the same Faculty. He has served as a clinical academic veterinary oncologist for the Universities of Glasgow, Wisconsin-Madison and Edinburgh. He is an RCVS and European recognized specialist in veterinary oncology and his major interests are cancer biology and comparative oncology. He has published over 160 papers relating to veterinary oncology and written textbook chapters that have underpinned our understanding of canine and feline cancer biology. In 2011 he was appointed William Dick chair of Veterinary Clinical Studies and Dean of Veterinary Medicine at The Royal (Dick) School of Veterinary Studies. In 2022 he was appointed to be Vice Principal and Head of College of Medicine and Veterinary Medicine at the University of Edinburgh, leading 3000 academic staff and 5 research Institutes. In 2016 he was appointed a Fellow of the Royal College of Veterinary Surgeons and, in the same year, a Fellow of the Royal Society of Edinburgh for meritorious contributions to knowledge. He was appointed a Fellow of the Royal Society for the Arts in 2018. In 2015 he was awarded the Kennel Club International Prize for his work to advance the understanding of canine disease.
You might also be interested in