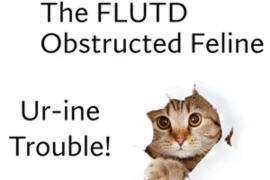 The FLUTD Obstructed Patient - Ur-ine Trouble!
Speaker:
Laura Bennington
from 1
US$ 42,-
(incl. tax)
Description
This webinar will take you through the emergency presentation and stabilisation for the FLUTD-Obstructed Feline aka the 'blocked cat'.
In this webinar we shall cover:
-Phone triage for the urinary patient
-Triage of the patient on arrival
- Emergency stabilisation
- Hyperkalaemia
- Patient preparation
- The unblocking procedure
- Inpatient nursing care
- Other nursing considerations
The Australian Veterinary Nurse and Technician (AVNAT) Regulatory Council has allocated (1) AVNAT CPD point to this continuing education activity.
Recording from 11 July 2023
Laura Bennington
Laura Bennington, BSc(Hons) RVN CertVNECC VTS(ECC)
Laura qualified with a BSc(Hons) in Veterinary Nursing from Napier University in Edinburgh in 2010 and became an RVN with the RCVS. In 2015 she moved to Australia and started her journey into emergency and critical care, working as a Team Leader and 2IC in a busy referral ICU/emergency department. In 2022 she moved on to head her own ECC department at a new hospital and started her side business 'Veterinary Emergency Specialty Training' aka VEST so that she could share her experience and knowledge to help others learn and develop in the area of ECC. Check out her instagram page @Laurarvn.vest! Laura has gained extra qualifications since leaving university, including completing her CertVNECC in 2019 and gaining her VTS (Vet Technician Specialty) in ECC through the AVECCTN in 2022. Laura hopes that by sharing her knowledge and skills she can help people to feel comfortable dealing with emergencies and critical patients and achieving better outcomes for future patients and staff.
You might also be interested in