Game Changers in Osteoarthritis Management
04.10.2022 (UTC)
18:00 - 19:00 (UTC)
Description
Das Management von Hunden mit Osteoarthritis umfasst nicht nur die medikamentöse Therapie mit NSAID. Es bedarf eines multimodalen Ansatzes, um diese Patienten optimal zu unterstützen. Gewichtskontrolle, Nahrungsergänzung und Physiotherapie sind wichtige Bausteine. Aber haben Sie auch das häusliche Umfeld im Blick? Was ist mit Gelenkschutz und Hilfsmitteln? Dieser Vortrag zeigt anhand vieler praktischer Beispiele, an welchen Stellschrauben man noch drehen kann, um OA-Hunden ein besseres Leben zu ermöglichen.
Sprache: Englisch mit deutschen Untertiteln
» mehr Informationen wie online Seminare (Webinare) funktionieren
Wir danken der Firma Ecuphar für die freundliche Unterstützung.
Um eine Stunde nach § 10(2) der ATF-Statuten als Pflichtfortbildung wurde angesucht.
Um Bildungsstunden der Österreichischen Tierärztekammer wurde angesucht.
Um Anerkennung nach den Richtlinien der Gesellschaft der Schweizer Tierärztinnen und Tierärzte wurde angesucht.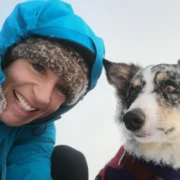 Hannah Capon
Hannah Capon MA Vet MB MRCVS CCRP
Hannah Capon MA Vet MB MRCVS CCRP, winner of the 2020 Royal College of Veterinary Surgeons Impact Award, the 2019 Ceva Vet of the Year and finalist in the 2019 Petplan Vet of the Year, is a first opinion veterinary surgeon in the UK. Recognised for her tireless work on Canine Arthritis Management (CAM) an online education and support service for owners of arthritic dogs and professionals that care for them.
You might also be interested in