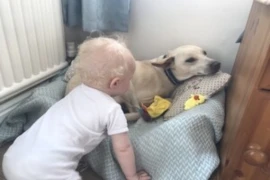 Let's talk cat and dog behaviour at 2nd vac (and put some myths to bed)
from 1
US$ 42,-
(incl. tax)
Description
The dreaded end of consult question…. "Can I just ask you quickly? Why does my cat spray urine in my kitchen"? Or "How can I stop my dog chewing the sofa when I go out?" These questions, although common place, can often be difficult to answer. But what if we worked towards the owner never having to ask them in the first place?
Fence at the top of the cliff or an ambulance at the bottom?
We can help to prevent common problems from developing by recognising that we are well placed to educate owners during the second vaccination appointment on how to foster emotional resilience in their dog or cat. In other words, if they put the work in at the beginning, then the chance of a behavioural problem developing reduces. Let's talk about more than worming, nutrition and neutering!
This webinar aims to look at:
• Understanding what motivates cats and dogs and how we reinforce their behaviour – good and bad
• Advising owners on how good intentions early on will lead to good welfare outcomes in a variety of common behavioural challenges
• Recognising the communication and body language that often precedes a dog bite – it's not about dominance!
Recording from 17 November 2020
Hayley Walters
Hayley Walters RVN MBE
Hayley qualified as a veterinary nurse through the Royal College of Veterinary Surgeons in The UK in 1999. She spent 7 years in mixed animal practice before leaving England to work for animal welfare charity 'Animals Asia' with Asiatic black bears rescued from the bile farming industry in China. In 2012 she moved to Scotland to take up a new position as a Welfare and Anaesthesia veterinary nurse for the University of Edinburgh. Hayley was part of the anaesthesia team and responsible for training final year veterinary students in all aspects of anaesthesia, inpatient care and pain management at the teaching hospital of the Royal (Dick) School of Veterinary Studies. Hayley also taught animal welfare and clinical skills to veterinary students in developing countries for the Jeanne Marchig International Centre for Animal Welfare Education. Her focus was on improving veterinary education through excellence in patient care and promoting humane alternatives to live animals in veterinary education. In 2018 Hayley moved back to England and now works in a first opinion small animal practice, and also in emergency and critical care. She is the first veterinary nurse to receive an MBE from the Queen for services to veterinary education and animal welfare.
You might also be interested in