Surgical assistance for nurses
from 1
US$ 42,-
(incl. tax)
Description
Good theatre practice is one area of veterinary medicine that can be the responsibility of a nurse. It often requires one person to be in control to ensure the smooth running and maintenance of high standards. This webinar is going to cover the following areas; basic principles - theatre practice, theatre personnel - duties and preparation, theatre clothing - scrubbing, gloving and gowning, the surgical field - drapes and trolley organisation and assisting during a procedure - diathermy, contaminated surgeries, irrigation and suction.
Recording from 20.09.2018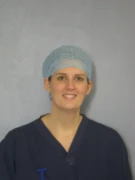 Alison Young
Alison Young DipAVN (Surgery), VTS (Surgery), RVN
Alison qualified as a veterinary nurse whilst working in a small practice in Hertfordshire. In 2001 she joined the Queen Mother Hospital at The Royal Veterinary College as a general surgery nurse working in all areas of the hospital. In 2005 she became senior theatre nurse and sat her Diploma in Advanced Veterinary Nursing (Surgery) gaining the highest marks for that year.
In 2007 she became Head Theatre Nurse and in 2012 became the first nurse in the UK to study for and pass the Veterinary Technician Specialist (Surgery) qualification in the USA.
Alison has co-written the theatre chapters in the BSAVA Textbook of Veterinary Nursing and the BSAVA Manual of canine and feline Advanced Veterinary Nursing. She has written articles for the VNJ and The Veterinary Nurse and spoken at BSAVA and BVNA conferences.
On a daily basis Alison manages seven operating theatres and a team of specialised theatre nurses in the multidisciplinary hospital. She enjoys all aspects of hands on theatre nursing and in particular the cardiothoracic patients undergoing open heart surgery.
You might also be interested in