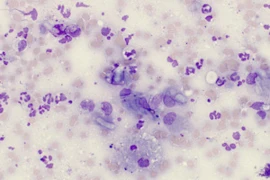 Zytologie von oberflächlich palpierbaren Massen – Fälle und Fallen
from 1
US$ 42,-
(incl. tax)
Description
Korrekt angewandt ist die Zytologie eine zeit- und kostengünstige diagnostische Methode, um in der Praxis Massen und andere Läsionen zu untersuchen. In diesem Webinar werden zuerst die Grundlagen der zytologischen Diagnosestellung wiederholt, und dann anhand verschiedener Fallbeispiele angewandt. Der Fokus liegt dabei auf Umfangsvermehrungen bei Hund und Katze, die oberflächlich palpierbar sind, und deshalb einfach zur Feinnadelaspiration zugänglich sind. Dabei werden auch Limitationen und gängige Fehler der Routinezytologie angesprochen. Ziel dieses Webinars ist, dass Sie dank der systematischen herangehensweise für die häufigsten Massen in ihrem Praxislabor die wichtigsten Differentialdiagnosen aufstellen, und unwahrscheinlichere Ätiologien ausschliessen können.
Sprache: Deutsch
Aufnahme vom 10.08.2022
Nutzen Sie die Möglichkeit und sehen Sie sich die Aufzeichnung des Webinars an.
1 Bildungsstunde laut Bildungsordnung der Österreichischen Tierärztekammer.
Anerkannt durch die ÖTK für eine (1) Stunde FTA Kleintier.
Anerkannt durch die ÖTK für eine (1) Stunde FTA Klinische Laboratoriumsdiagnostik.
Eine Anerkennung von 1 Stunde nach § 10(4) der ATF-Statuten als Pflichtfortbildung für ATF-Mitglieder ist möglich.
Die Anerkennung nach den Richtlinien der Gesellschaft der Schweizer Tierärztinnen und Tierärzte ist möglich.
Laureen Peters
Dr Laureen Peters, MVetMed, FHEA, Dipl. ACVP (clinical pathology)
Laureen Peters studied veterinary medicine from 2004-2009 at the Vetsuisse Faculty in Bern, Switzerland. Thereafter, she wrote her doctoral thesis in Pharmacogenetics, and completed a one-year internship in internal medicine at the small animal hospital of the Vetsuisse Faculty in Bern. Following that, she moved to London to do a residency in clinical pathology at the Royal Veterinary College, and obtained her board certification in 2015. Laureen stayed at the RVC for another four years as a lecturer, during which period she also completed a postgraduate certificate in veterinary education. In 2018 she was awarded the early career Award by the American Society of Veterinary Clinical pathology. Since 2019 Laureen is back as a lecturer at her Alma Mater, where she splits her time between the cytology service, teaching, and research with a focus on pancreas and sepsis.
You might also be interested in