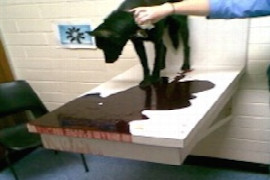 A focus on analgesia, sepsis and the catabolic state: How lessons learnt in the parvo ward can be extrapolated to other critical patients
from 1
US$ 42,-
(incl. tax)
Description
Management of severe parvovirus can be challenging; we are treating a critically ill patient in typically less than ideal isolation ward conditions. Because of the time-consuming barrier control required, quick checks of parvo patients become impractical and it is not uncommon for dogs to go long periods without assessment/intensive care. Recently we have seen a number of more severe than normal parvo dogs, which have been refractory to standard treatment regimen, with some of these succumbing in spite of aggressive therapy including transfusion of whole blood or plasma. Acute severe abdominal pain calls for opioid analgesia, at dose rates commensurate with degree of pain, further fine-tuned according to response. In the ravaged intestine of the leucopaenic patient E. coli and friends have free systemic access, again calling on aggressive targeted prophylactic antibiotic therapy. Strategies to ward off circulatory shock also come into play, and as PCV and albumin fall the already catabolic disease state places even further demands on body reserves the question of parenteral nutritional support (at least partial) arises. Some of the lessons learnt in the parvo isolation ward may be applied to the management of other acute trauma or sepsis patient scenarios. Finally, a look at human critical care medicine is worthwhile- some of it may be translated across to the animals in our care.
Language: English

In case you have missed this webinar, you have the opportunity to watch a recorded version here.

Scott Edwards
Dr Scott Edwards BSc BVMS PhD MACVSc
Scott graduated at Murdoch University a Veterinary Surgeon in 1988. A single year in pig consultancy was then followed by a number of small animal positions, in Australia and the UK. Scott returned to Murdoch University in 2002 as lecturer in pharmacology, attained his PhD in 2008 before moving to CSU in 2009. One day a week in small animal clinics keeps him in touch with the real veterinary world, lest he be completely be swept away into the research alternative universe.
You might also be interested in