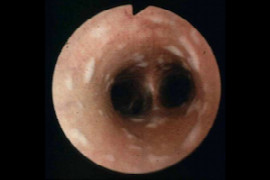 Equine Respiratory Sampling, Diagnosis and Management
from 1
US$ 38.50
(incl. tax)
Description
Laura will discuss how to sample the respiratory tract and make an accurate diagnosis based on results of respiratory sampling, ultrasonography of the chest and haematology. Options for management including antimicrobials, corticosteroids (systemic and inhaled), and other adjunctive therapies will be presented.
This webinar qualifies for one (1) hour of continuing education.
Recording from 22.08.2017

Laura Nath
Dr Laura Nath BVSc (Hons), Cert EM (Stud Med), MVSc, FANCVSC
Laura is a registered specialist in equine medicine and also has further qualifications in equine stud medicine. She graduated with honours from the University of Sydney in 2003. Thereafter she undertook an internship and remained at Goulburn Valley Equine Hospital as an assistant to Dr Angus McKinnon for several years, gaining a certificate in Equine Stud Medicine from the Royal College of Veterinary Surgeons in the UK in 2007. Laura completed a residency in Equine Medicine with Dr Kate Savage and Dr Sally Church at the University of Melbourne. Through this she gained a masters degree after researching cardiac disease and gained fellowship of the Australian and New Zealand College of Veterinary Scientists in equine medicine in 2010. Laura has also worked in racetrack practice at Flemington Equine Clinic. Overseas, she has been at the Clyde Veterinary Group in Scotland and was last year working at Rossdales and Partners in Newmarket, England. Laura continues to enjoy helping with a broad range of cases including cardiac and respiratory disease, neurology, colic and diarrhoea, weight loss, endocrine diseases such as Cushings (PPID) and foal disorders.
You might also be interested in