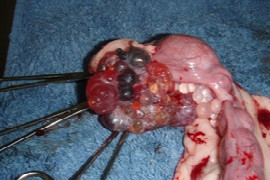 Pyometra in Small Animals
Speaker:
Xavier Schneider
from 1
US$ 42,-
(incl. tax)
Description
With increasing population of dogs being entire for longer, and the desire to treat medically rather than surgically performing an ovariohysterectomy, pyometra in small animal practice is becoming a commonly encountered problem. Here we review the medical and surgical options available for this disease.
Recording from 23 June 2020
Xavier Schneider
Dr. Xavier Schneider BIT BLM(hons) BVSc(hons) MANZCVS (Animal Reproduction) DipACT
Xavier graduated as a veterinarian from the University of Queensland and began his veterinary career working in mixed practice in Northern Australia focusing on Equine and Bovine Reproduction. On returning to Brisbane, he completed an internship in Equine surgery, medicine and reproduction at The University of Queensland. Xavier has currently completed a residency program in Theriogenology (Animal Reproduction) with the American College of Theriogenologists at Queensland Veterinary Specialists and The University of Queensland. Xavier is a member of the Australian and New Zealand College of Veterinary Scientists, a Diplomate of the American College of Theriogenologists and a board certified specialist in Theriogenology (Reproduction).
You might also be interested in