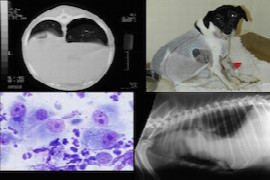 Respiratory physiology and pathophysiology: a refresher for busy veterinary emergency clinicians
from 1
US$ 42,-
(incl. tax)
Description
This webinar will provide a refresher on respiratory physiology and pathophysiology for busy veterinary emergency clinicians. A sound understanding of respiratory physiology underlies and facilitates correct diagnosis and management of patients that present in respiratory distress. For example, such understanding enables the clinician to correctly identify and interpret important clues in the physical examination findings of dyspnoeic patients. This often enables localisation of the underlying disease to the pulmonary parenchyma, vasculature, pleural cavity, mediastinum, lower airways or upper airways and helps to guide therapy. Correct interpretation of blood gas parameters and other basic respiratory function test results also clearly hinges upon a sound understanding of respiratory physiology and pathophysiology. Blood gas and clinical responses (or lack thereof) to therapeutic interventions can also be highly informative when interpreted in light of an understanding of the underlying pathophysiology. Managing emergency patients in respiratory distress can be challenging. Having a sound, systematic approach based on a good understanding of physiological and pathophysiological principles helps to increase confidence when managing these cases.
Recording from 11.10.2017

Richard Squires
Richard A. Squires BVSc (Hons), PhD, DVR, Dip.ACVIM, Dip.ECVIM-CA, GCertEd
Richard Squires leads the veterinary clinical sciences team at James Cook University in Townsville, northern Australia. Richard graduated as a veterinarian from Bristol University. After a short spell in general practice he obtained postgraduate clinical training at the Universities of Cambridge and Pennsylvania and research training at Glasgow. His PhD was awarded for research in which he sought a retroviral aetiology for canine lymphoma. He is a Diplomate of both the American and European Colleges of Veterinary Internal Medicine and he holds the Royal College of Veterinary Surgeons' Diploma of Veterinary Radiology. Richard held faculty positions at the Universities of Liverpool, Pennsylvania, Wisconsin and at Massey University in New Zealand prior to taking up his current position in 2007. Throughout much of his career Richard has taught and assessed veterinary students in a clinical setting while providing referral clinical services in the broad discipline of canine and feline internal medicine. Most of his research has been on canine and feline infectious diseases. In addition, for five years in New Zealand, Richard taught and carried out research in veterinary virology. Richard is a member of the World Small Animal Veterinary Association's eight-member Scientific Advisory Committee and of its four-member Vaccination Guidelines Group.


You might also be interested in