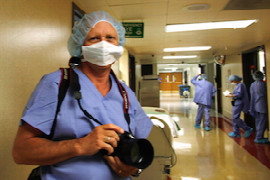 Strategies to accelerate the learning curve for advanced surgical procedures
Description
Learn how to become a surgical virtuoso. Intentionally counteract your brain's urge to automise, concentrate on moves you have yet to perfect and never stop learning.
Language: English
In case you have missed this webinar, you have the opportunity to watch a recorded version here.
This webinar qualifies for one (1) hour of continuing education.
Charles Kuntz
Dr Charles Kuntz DVM, MS, MACVSc, Diplomate of the American College of Veterinary Surgeons, Registered Specialist of Small Animal Surgery, Fellow of Surgical Oncology.
Charles graduated from the University of Florida College of Veterinary Medicine in 1990. He did an internship at the Animal Medical Center in New York City. He completed a residency and Master's degree in surgery at Virginia Tech in 1994 and achieved specialty board certification in surgery in 1996 on his first attempt.
Charles did a one year fellowship in cardiovascular research and surgery. He completed a fellowship in surgical oncology at Colorado State University. Charles was then a professor of Orthopedic Surgery at Colorado State University before he moved to Northern Virginia where he started a surgical referral practice which was among the busiest in the Washington DC area. He was the program chair and a member of the Board of Directors of the District of Columbia Academy of Veterinary Medicine.
Charles moved to Australia in 2004 and is the director of Southpaws Specialty Surgery for Animals in Melbourne. He is an internship director, surgical residency advisor and program director for the American College of Veterinary Surgeons.
You might also be interested in