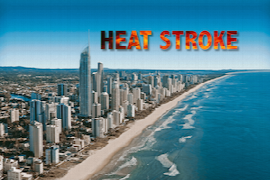 Ten Considerations of Heat Stroke
Speaker:
Dominic Barfield
from 1
US$ 38.50
(incl. tax)
Description
Heat Stroke has a high mortality in the patients that we treat. Prompt recognition and initiation of treatment can be life saving. There are many pathophysiological interactions and consequences for organs that can significantly affect patient outcome. This webinar will present 10 things to consider about treating these patients; including cooling, coagulation and decision making. Whether you believe in global warming or not, there is a current fashion with brachycephalic dogs across the globe who do not actually need the outside temperature to be that high to find themselves in a world of problems. If you can handle the irony of a pom discussing heat stroke to Aussies then please log on and enjoy the webinar.

Language: English
In case you have missed this webinar, you have the opportunity to watch a recorded version here.

Dominic Barfield
Mr Dominic Barfield BSc BVSc MVetMed DACVECC DECVECC FHEA MRCVS
Dom graduated from the University of Sydney and worked in general practice in the surrounding suburbs for 5 years before returning to the country of his birth (UK) to seek further postgraduate training in Emergency and Critical Care. He has remained at The Royal Veterinary College since joining in 2008 and is a Diplomate of the American College of Emergency and Critical Care. He misses Australia daily, even though he actively recruits Australians to the RVC.
You might also be interested in