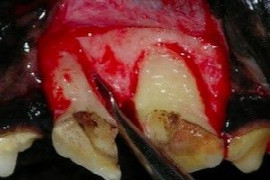 Tipps und Tricks zur Zahnextraktion bei Hund und Katze
Speaker:
Alexander M. Reiter
from 1
US$ 38.50
(incl. tax)
Description
Dieses Webinar beschreibt Techniken zur geschlossenen (ohne Lappen) und offenen Zahnextraktion (mit Lappen) bei Hund und Katze. Tipps und Tricks zum reibungslosen Ablauf der Prozedur werden mit den Teilnehmern geteilt. Komplikationen werden kurz angesprochen.
Sprache: Deutsch
Nutzen Sie die Möglichkeit und sehen Sie sich die Aufzeichnung des Webinars an.
1 Bildungsstunde laut Bildungsordnung der Österreichischen Tierärztekammer.
Eine Anerkennung von 1 Stunde nach § 10(4) der ATF-Statuten als Pflichtfortbildung für ATF-Mitglieder ist möglich.
Anerkannt nach den Richtlinien der Gesellschaft der Schweizer Tierärztinnen und Tierärzte.
Alexander M. Reiter
Dipl.Tzt. Dr. Alexander M. Reiter, Dipl. AVDC, Dipl. EVDC
Dr. Alexander Reiter schlug nach dem Abschluss seines Veterinärmedizinstudiums in Wien 1996 einen akademischen Karriereweg in den Vereinigten Staaten von Amerika ein. Er wurde 2001 Diplomate des AVDC und EVDC und 2003 ständiges Fakultätsmitglied der University of Pennsylvania in Philadelphia.
Dr. Reiter ist Leiter der Klinik für Zahnheilkunde und Orale Chirurgie im Matthew J. Ryan Veterinary Hospital of the University of Pennsylvania. Er hat spezielles Interesse an Zahnresorption, Parodontalchirurgie, oraler und maxillofazialer Chirurgie (Trauma und Onkologie), Gaumenchirurgie, maxillofazialer Rekonstruktion, Mikrochirurgie (freier mikrovaskulärer Gewebstransfer), oraler Manifestation systemischer Erkrankungen und systemischer Manifestation oraler Erkrankungen.
You might also be interested in