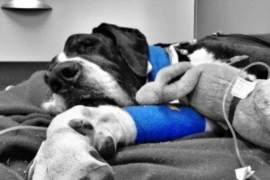 Central Venous Pressure in the Veterinary Patient (for Nurses)
Speaker:
Cheryl MacPherson
from 1
US$ 38.50
(incl. tax)
Description
Central venous pressure (or CVP) monitoring has been used in veterinary medicine as a tool for monitoring cardiac function and managing fluid therapy. In critical patients and complex anaesthetics, the technique expands the availability of information we have for patient management and helps provide a more complete picture of how the cardiovascular system is operating in conjunction with other monitoring techniques. As veterinary nurses/technicians, is it important to understand when, how and why to use central lines for critical patients and the importance of central line care and maintenance post-operatively.
This webinar will discuss the use of CVP monitoring in small animal practice with an overview of placement and management of central lines, techniques for monitoring CVP, interpretation of CVP and its limitations. We will also cover some of the controversies with its use in human medicine and briefly touch on other uses for central lines in our critical patients. Being comfortable with CVP monitoring will provide benefits in monitoring those complicated anaesthetics in critical patients and confidence in helping to make correct management decisions for better patient outcomes.
Recording from 19 August 2020
Cheryl MacPherson
Dr Cheryl MacPherson BVSc(Hons), GradCertPharmMed, Cert IV TAE, MANZCVS(E&CC)
Having qualified in 1995 at the University of Melbourne, I have spent the majority of my career in emergency and specialist practice while still maintaining a connection with general practice for work life balance. I have spent some time working with rescued wildlife in Thailand and taught small animal clinical anaesthesia to veterinary students at the University of Sydney. I achieved Membership of the Australian and New Zealand College of Veterinary Scientists in 2004 in the field of Emergency Medicine and Critical Care and have currently been employed at the Brisbane Veterinary Emergency and Critical Care Service (BVECCS) for the past 10 years. More recently I have completed a Graduate Certificate in Pharmaceutical Medicine through UNSW.
My love of emergency medicine stems from the interesting and varied caseload, the adrenalin rush of a GDV and the satisfaction in helping improve the health and well-being of emergency patients. After 25 years of practising, it is the one area that keeps me coming back.
You might also be interested in