Emergency Medicine in Rabbits
from 1
US$ 38.50
(incl. tax)
Description
Emergency and critical care of rabbits is a new concept and an exciting challenge. At presentation, prey species like rabbits may disguise obvious clinical signs making triage more complicated. However most emergency and critical care techniques used in other companion animals can be applied, and familiarity with common rabbit presentations can improve the management of these pets. Ileus, dyspnoea and seizure are examples of possible conditions that, with the right approach, can be treated successfully. Anorexia is also a very common emergency that should be treated within 24-48 hours from presentation. However, anorexia is a clinical sign and not a disease, and the cause should be thoroughly investigated and treated. This webinar will describe the emergency equipment advised for the rabbit patient and some of the most common emergency presentations and their treatments.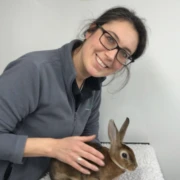 Livia Benato
Livia Benato - DVM MScR CertZooMed , GPCert(ExAP), DipECZM, MRCVS
Livia Benato has worked with rabbits and exotic animals since she graduated in 2002. Livia is Head of the Small mammal and Exotics Referral Service at City Vets in Exeter. She is also studying towards her PhD in Rabbit Pain and Analgesia at the University of Bristol. Livia is a RCVS and EBVS Recognised Specialist in Small Mammal Medicine.
You might also be interested in