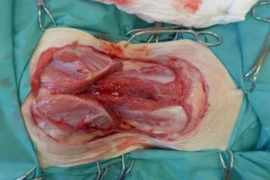 Grundlagen der onkologischen Chirurgie
Speaker:
Marlis Wiebogen-Wessely
from 1
US$ 42,-
(incl. tax)
Description
Das Fachgebiet der Tumorchirurgie nimmt in der täglichen Praxis einen sehr hohen Stellenwert ein. In diesem Webinar sollen nicht nur chirurgische Grundkenntnisse vermittelt werden, sondern auch die genaue und korrekte Aufarbeitung des onko-chirurgischen Patienten.
Sprache: Deutsch
Aufnahme vom 15.09.2020
1 Bildungsstunde laut Bildungsordnung der Österreichischen Tierärztekammer.
Anerkannt durch die ÖTK für eine (1) Stunde FTA Kleintier.
Eine Anerkennung von 1 Stunde nach § 10(4) der ATF-Statuten als Pflichtfortbildung für ATF-Mitglieder ist möglich.
Anerkannt nach den Richtlinien der Gesellschaft der Schweizer Tierärztinnen und Tierärzte und mit 1/3 BP ausgezeichnet.
Marlis Wiebogen-Wessely
Dr. Marlis Wiebogen-Wessely, Diplomate ECVS
Marlis Wiebogen-Wessely schloss ihr Diplomstudium an der Veterinärmedizinischen Universität Wien ab; danach war sie als Assistenzärztin in der Tierklinik Hollabrunn tätig. Ihr Doktoratsstudium schloss Wessely an der Münchner Ludwig-Maximiliansuniversität ab. 2014 begann sie ihr dreijähriges Residency-Programm an der klinischen Abteilung für Kleintierchirurgie an der Vetmeduni Vienna, unter Supervision von Dr. Eva Schnabl-Feichter, Dipl. ECVS. Ihre Diplomate-Ausbildung umfasste auch Lehrtätigkeiten und das Verfassen von wissenschaftlichen Arbeiten.
Nach Abschluss ihrer Residency-Ausbildung war sie Oberärztin der Kleintierchirurgie am Vetsuisse Tierspital in Zürich und kehrte im Jänner 2019 als Senior-Assistentin in das orthopädische Team in die Abteilung für Kleintierchirurgie an die Vetmeduni Vienna zurück.
Im Februar 2020 absolvierte Marlis Wessely erfolgreich ihre Examens-Prüfung und bekam den Titel "Diplomate of the European College of Veterinary Surgeons" (ECVS) verliehen. Damit ist die Kleintierchirurgin nun geprüfte Fachtierärztin für Kleintierchirurgie. Derzeit arbeitet Marlis Wiebogen-Wessely als Geschäftsführerin und Leiterin der chirurgischen Abteilung in der Tierklinik St. Pölten.
You might also be interested in