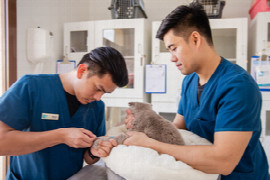 Tips for Creating a Cat Friendly Environment in the Veterinary Emergency Room and Critical Care Setting
from 1
US$ 42,-
(incl. tax)
Description
We as veterinarians are becoming more and more aware of the impact that a veterinary visit can have on the mental and emotional health of our patients. Cats seem to be particularly affected by leaving their known environments and entering into a new environment that can hold a multitude of unknown and unpleasant stressors. Imagine how heightened the perception of these stressors may be in an emergency or critical care setting. In this webinar, we will look at why it is so important to manage feline stress in the above mentioned settings and discuss easy to implement and practical strategies for the hospital, emergency room and critical care environment in order to improve recovery and outcome as well as create a safer and more pleasurable workplace for the veterinary team.
This webinar is sponsored by Stress Free Pets
Recording from 30 June 2020
Katrin Jahn
Dr Katrin Jahn, DrMedVet, CertVA, MRCVS General Manager and Head Veterinarian ECAWBM Resident In Veterinary Behaviour Medicine Certified Fear Free Professional
Katrin graduated as a veterinarian from the University of Munich, Germany in 1999 after which she spent 7 years working in a variety of practices in the UK. During this time, Katrin earnt the RCVS "Certificate in Veterinary Anaesthesia" and completed a doctorate thesis in animal behavior before moving to the UAE in 2006.
Enchanted by the UAE and its opportunities, Katrin opened her own small animal clinic - the German Veterinary Clinic - in Abu Dhabi in 2008. The clinic grew from herself and 2 nurses to a team of over 20 in the space of 10 years and is the first ISFM Gold Standard Cat Friendly Clinic in the Middle East.
Alongside Feline Medicine and Anaesthesia, Katrin has a huge passion for Veterinary Behaviour Medicine and Animal Welfare.
Last year, Katrin embarked on a 4 year residency program in Veterinary Behaviour Medicine with both the American as well as European Colleges of Animal Welfare and Behaviour Medicine and hopes to take her board exams in 2023.
Katrin feels strongly that the mental and emotional health of her patients are as important as their physical health.
Outside of work, Katrin loves spending time with her own animals – 2 dogs and 2 cats and is a competitive horse rider. She also loves yoga and spending time with friends and family.
You might also be interested in