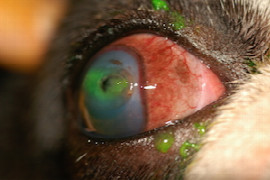 Approach to problematic corneal ulcers
from 1
US$ 42,-
(incl. tax)
Description
To the practitioner there are two types of corneal ulcer - the uncomplicated and the complicated. Recognising negative healing factors and developing a logical approach to managing corneal ulcers will accelerate healing times, reduce visual impairment and increase client satisfaction. The aim of this talk is to simplify how we view corneal ulcers and to develop patient specific 'road maps' to ensure that we achieve the best clinical outcomes possible.
Language: English
In case you have missed this webinar, you have the opportunity to watch a recorded version here.
Brian Patterson
Brian Patterson BVM&S Cert VOphthal MRCVS
Brian graduated from Edinburgh University in 1996. After completing a two year hospital internship, he took up a 3 year ophthalmology based residency at the Weipers Centre, University of Glasgow, and whilst there was awarded the RCVS certificate in ophthalmology in 2002. For the last ten years he has worked as a veterinary ophthalmologist in the south west of England and is clinical director of the ophthalmolgoy service at Vale Referrals. As a full time clinician, Brian has been also been involved in teaching ophthalmology at the University of Bristol (2010-2012) and has lectured both nationally and internationally. Clinically, his particular areas of interest are cataract surgery and emergency eye care.
You might also be interested in