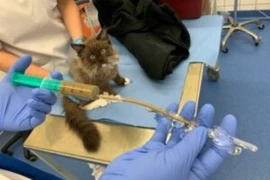 How to Influence the Intestinal Microbiome
Speaker:
Jan S. Suchodolski
from 1
US$ 42,-
(incl. tax)
Description
This presentation will discuss how to recognise microbiome dysbiosis and the different approaches to modulate the intestinal microbiome in cats and dogs with intestinal disease. A special focus of this presentation will be to discuss the use of fecal microbiota transplantation as an emerging approach to correct intestinal dysbiosis (donor screening, protocols and potential indications)
Recording from 18 April 2023
This program has been approved for 1 hour of continuing education credit in jurisdictions that recognize RACE approval. (Pending).
Jan S. Suchodolski
Dr. Jan S. Suchodolski, PhD., AGAF, DACVM
Jan S. Suchodolski is a professor in small animal medicine, associate director for research, and head of microbiome sciences at the Gastrointestinal Laboratory at Texas A&M University. He received his DrVetMed from the University Vienna, Austria and his PhD in veterinary microbiology from Texas A&M University. He is board certified in immunology by the American College of Veterinary Microbiologists (ACVM). His research is focused on developing biomarkers for gastrointestinal disease and therapeutic approaches for the modulation of the intestinal microbiota. He has authored or co-authored more than 360 peer-reviewed articles in the area of veterinary gastroenterology and microbiome research.
You might also be interested in