Monitoring the Recovering Ill or Injured Patient: Key Points (for Nurses)
from 1
US$ 42,-
(incl. tax)
Description
The team approach is stressed. Orders are outlined and some highlighted for discussion. Vital signs and further testing, quick assessment tests (QATs), fluid therapy, ongoing fluid losses from head to toe, nutritional support, assessing for systemic illness, tips for post-surgical observations and pain management. Points are made for all aspects to monitor with some in-depth content for situations that may be overlooked initially, such as prevention of muscle weakness, aspects of infection control, patient comfort, prevention of decubitus ulcers and, an important system that may be overlooked when not noted on the problem list, the urinary system. Various scenarios associated with the urinary system will be presented. An example of the importance of reporting an observation to identify a new or unidentified problem, is presented to illustrate the importance of the role the technician plays in patient recovery.
Recording from 8 April 2021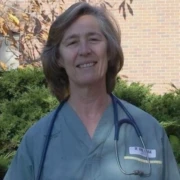 Karol Mathews
Karol A. Mathews, DVM, DVSc, DACVECC
Dr. Karol A. Mathews graduated from the Ontario Veterinary College in 1980, obtained the Doctor of Veterinary Science degree in Small Animal Surgery in 1986 and Board Certification in the American College of Veterinary Emergency and Critical Care (Diplomate ACVECC) in 1993. Dr. Mathews was Service Chief Emergency & Critical Care Medicine, OVC 1989-2009, President of the Veterinary Emergency & Critical Care Society 2002-2004, and Chair of the WSAVA Global Pain Council–Guidelines. She is a recipient of the 1999 CVMA Small Animal Practitioner of the Year Award, the 2002 ACVECC Scientific Achievement Award, the 2002-2004 University of Guelph Presidential Distinguished Professor Award, and the 2009 Ira M Zaslow VECCS Award for Distinguished Service.
Dr. Mathews is a national and international speaker at scientific conferences, is author and co-author of many scientific journal publications and chapter in several veterinary textbooks. She is the editor of the 1st, 2nd & 3rd editions of the Veterinary Emergency and Critical Care Manual, co-editor of Analgesia & Anesthesia for the Ill or Injured Cat and Dog (2018), and guest editor for Veterinary Clinics of North America, Small Animal Practice, July 2000 and November 2008.
Currently, she is an active University of Guelph Professor Emerita.
You might also be interested in