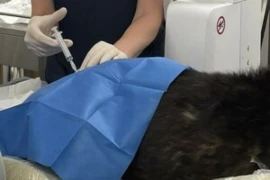 Nerve Blocks in Practice
from 1
US$ 42,-
(incl. tax)
Description
Locoregional anaesthesia techniques are valuable tool for the emergency vet; providing excellent analgesia whilst avoiding many of the side effects associated with systemic administration of analgesic drugs. This webinar will review the pharmacology of local anaesthetic drugs, providing an update on drugs currently available in Australia and answering commonly asked questions such as "can I mix two different local anaesthetics together?". Equipment options for administration of nerve blocks and for the localisation of nerves will be discussed. Different types of locoregional anaesthesia will be introduced (e.g., infiltration, peripheral nerve blocks, neuraxial blocks), and the general approach to each described. Finally, the practical application of specific locoregional techniques relevant to small animal emergency practice will be detailed.
Recording from 21 December 2022
Jennifer Davis
Dr Jennifer Davis, BVMS MVS MANZCVS DipECVAA, Lecturer in Veterinary Anaesthesia
Jen is a specialist veterinary anaesthetist (Dip.ECVAA), currently working at Animalius, a private small animal referral clinic in Perth, Western Australia. Jen graduated with a BVMS from the University of Glasgow in 2005, then worked in general practice in the UK and Australia for seven years. During that time, she developed an interest in anaesthesia and analgesia, and attained Membership (by examination) with the Australian and New Zealand College of Veterinary Scientists in Veterinary Anaesthesia and Critical Care in 2011. In 2012, Jen commenced a residency in Veterinary Anaesthesia and Analgesia at Murdoch University. Jen became a Diplomate of the European College of Veterinary Anaesthesia and Analgesia in 2015. Jen completed a PhD on the early identification of acute kidney injury in anaesthetised dogs using urinary biomarkers in 2022 at Murdoch University.
You might also be interested in