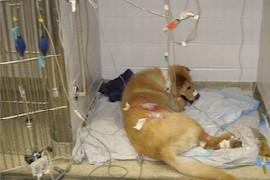 Preventing Catastrophe - Organ system monitoring in the critical patient (for nurses)
from 1
US$ 42,-
(incl. tax)
Description
When caring for the critical patient where systemic inflammatory response syndrome (SIRS) is a potential issue, the last thing we want is for problems to snowball out of control into multiple organ dysfunction syndrome (MODS). It is therefore crucial that we have an idea of what could happen and how best to monitor for these changes so that intervention can take place. This webinar will focus on monitoring organ systems in the critical patient at risk of MODS, with an aim to better equip the veterinary nurse in these situations and provide the best outcome possible for that patient.
Jess Male
Jess Male BSc (Biological & Biomedical Sciences), RN, RVN, TAA
Jess is a qualified Veterinary Nurse, and Registered Nurse (human) in orthopaedics and plastics. She holds Bachelor degrees in Biological and Biomedical Science from Murdoch University, WA. Having worked in a variety of busy veterinary practices since commencing her vet nursing career in 2001, Jess now combines part time clinical work at Adelaide Vet's largest hospital in South Australia, with veterinary nurse educating through the Australian College of Veterinary Nursing. Jess' special interests lie predominantly in wound care, as well as emergency and critical care.
You might also be interested in