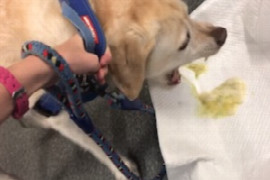 A Veterinary Nurses Approach to Triage and Treatment - Common Poisons and Toxicities
Speaker:
Ashleigh Ehrmann
from 1
US$ 42,-
(incl. tax)
Description
This webinar will aid in gaining insight into the world of emergency triage and treatment of common poisons and toxicities seen around Australia.
A thorough knowledge in triage, clinical presentations and treatment of these cases will help nurses recognize symptoms and the knowledge in how to treat accordingly in a timely manner.
When it comes to poisons and toxicities – time is everything.
Recording from 07.03.2018
Ashleigh Ehrmann
Ashleigh Ehrmann BaApSc, B.Comm
My name is Ashleigh Ehrmann and I am a Veterinary Technician graduate from University of Queensland.I have been working in veterinary clinics since 2008 but in 2014 after graduating from UQ I made the move to my true passion – Emergency and Critical Care.Working in ECC you see a vast variety of cases often requiring immediate intervention and many of these occasions it can include cases involving poisons and toxicities. The fundamentals of emergency require a thorough confidence understanding of cases to be able to implement immediate intervention. Continued learning is a passion of mine and I have decided to take my veterinary technology knowledge and continue my learning journey into the world of veterinary medicine.I am currently working at Animal Emergency Service in Brisbane on my holidays and while I study I work at the James Cook University veterinary hospital.The more you do, the more you can do – so never stop learning! I am excited to share my passions for emergency triage and treatment for poisons and toxicities with you.
You might also be interested in