Help, my patient has arrested! An introduction to CPR (for Nurses)
Speaker:
Yvonne Van Der Veek
from 1
US$ 42,-
(incl. tax)
Description
In this webinar we will review the RECOVER ( Reassessment Campaign on Veterinary Resuscitation) guidelines for Cardiopulmonary Resuscitation. In practice CPR is fortunately not often required but when it does occur it can be a stressful event for everyone involved. The aim of this seminar is to leave you feeling more confident when dealing with a situation when your patient has arrested. For the scope of this seminar we will focus on Basic Life Support. Advanced Life Support falls out of the scope of this webinar but will be briefly discussed. You will learn how to recognize and assess cardiopulmonary arrest and how to respond to this appropriately. The principles of Basic Life Support will be covered step by step, both in a single rescue situation and a team situation. This includes chest compressions and discussing chest compression points in different breeds and species, intubation and ventilation. These guidelines will help you deal with any CPR code in your practice.
Recording from 24.10.2018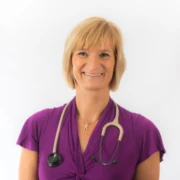 Yvonne Van Der Veek
Dr Yvonne Van Der Veek. DVM MANZCVS
After graduating from her veterinary degree from The University of Utrecht in 2000, Dr Yvonne Van Der Veek worked in general practice in the United Kingdom for 3 years. She moved to Australia in 2004 and worked in general practice for 4 years before venturing into Critical Care and Emergency Medicine. After working at the Veterinary Specialist Centre (VSC) for 2 years she made to move to the Small Animal Specialist Hospital (SASH). She passed her ANZCVS memberships in Emergency and Critical Care in 2009. Yvonne has a great deal of experience with emergencies and became a qualified RECOVER CPR trainer in September 2017. She has a passion for teaching Emergency Medicine, CPR and promoting the RECOVER guidelines.
You might also be interested in