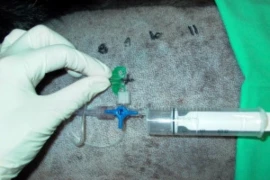 Notfall-Techniken für praktische TierärztInnen
from 1
US$ 42,-
(incl. tax)
Description
Dieses Spezial-Webinar vermittelt in einem 90-minütigen Fachvortrag die Notfall-Techniken, die jede(r) Tierarzt/ärztin beherrschen sollte! Die Techniken werden anhand von ausführlichen Bildserien und/oder Videos praxisnah vermittelt. Die Indikationen und Kontraindikationen werden wiederholt, mögliche Probleme und Komplikationen besprochen sowie Tipps und Tricks mitgegeben, um erfolgreich Leben zu retten.
Sprache: Deutsch
Aufnahme vom 28.02.2023
Nutzen Sie die Möglichkeit und sehen Sie sich die Aufzeichnung des Webinars an.
1 Bildungsstunde laut Bildungsordnung der Österreichischen Tierärztekammer.
Anerkannt durch die ÖTK für 1 Stunde FTA Kleintier.
Eine Anerkennung von 1 Stunde nach § 10(4) der ATF-Statuten als Pflichtfortbildung für ATF-Mitglieder ist möglich.
Anerkannt nach den Richtlinien der Gesellschaft der Schweizer Tierärztinnen und Tierärzte und mit 1 Bildungsstunde ausgezeichnet.
Nadja Sigrist
PD Dr.med.vet. Nadja Sigrist, Small animal specialist FVH, DACVECC, DECVECC, EBVS specialist in veterinary emergency and critical care.
After graduating from the veterinary school of the university of Bern in 1996, Nadja completed a doctoral thesis and trained as a specialist for small animals (FVH) before completing a residency in Veterinary Emergency and Critical Care. She is an ACVECC Diplomate since 2004 and ECVECC founding Diplomate since 2014.
From 2005-2010 she was senior clinician in ECC medicine and helped developed the emergency and ICU service at the Small Animal Hospital of the Vetsuisse Faculty of Bern and from 2013-2020 she was senior clinician and the head of the Small Animal Intensive Care Unit at the Small Animal Hospital of the Vetsuisse Faculty of Zürich.
In 2021, Nadja left the university setting to concentrate on her own company VET ECC CE (Veterinary Emergency and Critical Care Consulting & Education).
You might also be interested in