Nursing the Septic Patient
from 1
US$ 42,-
(incl. tax)
Description
Sepsis is a disease process that can result from any source of infection in our small animal veterinary patients. These patients can quickly become challenging to monitor and require significant care from the entire veterinary team. This webinar will discuss the physiology of sepsis and how it can manifest in vital signs, strategies for treating sepsis in cats and dogs, and how good nursing care can make the difference in these patients. Case studies will be utilized to bring the information into practical and useful take-home points.
Recording from 12 September 2019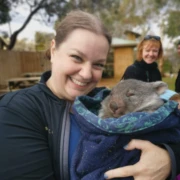 Megan Brashear
Megan Brashear, BS, CVT, VTS (ECC)
Megan graduated in 2000 with a BS in in Veterinary Technology. She has worked in emergency and critical care since 2000 earning her veterinary technician credentials in 2000 and in 2004 became a Veterinary Technician Specialist in Emergency and Critical Care. Megan currently works as the Small Animal Nursing Manager at the Purdue University Veterinary Teaching Hospital in West Lafayette, Indiana, where she enjoys working with technician supervisors as well as teaching and training technicians and students on the hospital floor. She loves the opportunity to travel and lecture sharing her knowledge with veterinary technicians and nurses around the world.
You might also be interested in